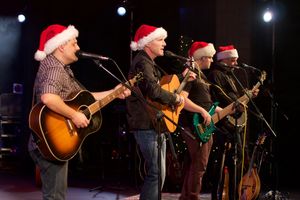 Ryan Shupe Christmas - Christmas
Ryan Shupe & the RubberBand – Christmas
     Spend a wonderful Holiday evening with Ryan Shupe & the RubberBand. This highly spirited show is great for all ages, young and old, and a perfect Christmas tradition for families. 
     With the same dynamic and joyful energy that brightens their popular shows during the year, Ryan Shupe & the RubberBand tailor their rocking, acoustic sound to their most favoritest time of the year – Christmas! 
     From the calypso influenced "Rudolph the Red Nosed Reindeer" to the beatnik version of "Drummer Boy" to the Rocking Bluegrass version of "Jingle Bells", the audience will love these exciting and creative Holiday versions. 
     The band also adds a clever seasonal twist to some of their more popular tunes. "The Corndog Song" becomes "The Eggnog Song" and "The Grinch Went Down To Whoville" is a fun Christmas variation of "The Devil Went Down To Georgia" 
     The show is fun and energetic, but it also captures the spirit of Christmas with a beautiful instrumental arrangement of "Carol Of The Bells" and a thoughtful "Silent Night" sing-along. "The Gift" is a powerful, original song about the true meaning of Christmas: the Gift of Salvation, while "The Night That Christ Was Born", another original, paints the picture of wise men, angels, and shepherds on the Eve of Jesus' birth. 
     When Christmas lights, Santa hats and entertaining video snippets are coupled with stellar musicianship, tight harmonies and family-friendly entertainment, the Ryan Shupe & the RubberBand Christmas is a tradition you and your whole family will love!
Quotes:
"We really enjoyed hosting Ryan Shupe's "The Gift" Christmas show as part of our Celebrity Concert Series this year.  From moments of absolute virtuosity to hearing beloved Christmas songs that you found yourself singing along to, the audience, to a person, had a terrific time.  We are looking forward to having Ryan and the Band again next year...and the year after that.  This show is highly recommended for audiences of all ages." -  Steve Lemmon | Director of Programming Arts | Dixie State University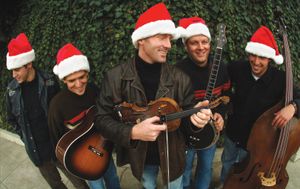 Music
0:00/2:36

0:00/4:53

0:00/1:20

0:00/3:34

0:00/2:30

0:00/3:23